what we're doing to keep people safe:

All staff members are vaccinated

Everyone fills out COVID questionnaire and gets temperature taken before entering practice

Extraoral suction to prevent spread of germs

All PPE is used throughout the practice including shoe covers
LOS CERRITOS DENTAL PRACTICE
For the Safety of Our Patients & Staff

We have added new procedures to ensure that the safety of our patients and staff remain at the top of our priorities.




Make an appointment with us! 😊
Call 562-403-3355
Answer a COVID-19 Screening questionnaire over the phone
Patients are instructed to not bring companions to appointments, except as may be absolutely necessary.
We are ensuring that anyone who is experiencing flu-like illnesses and not requiring emergency dental care, including employees, leaves the premises prior to entrance



When you arrive 😊
Please wear your masks and wait outside front door
Complimentary masks, shoe covers, and hand sanitizers are provided upon arrival
We will use a no contact device to measure the temperature and pulse of all patients
If you have a temperature over 102 degrees, we will ask you to reschedule
COVID-19 questionnaire will be completed again
We will have you use 1.5% hydrogen peroxide rinse for 30-second before procedures



Operation & Office Adjustments in accordance to dentistry and OSHA guidelines 😊
Social distancing with "6ft apart" stickers on our floor
Hand sanitizers with at least 60% alcohol and handwashing stations with soap are placed throughout the office
No-touch trashcans
Front desk sneeze guard
Magazines and toys removed
Pens and iPads sanitized after each use
The Re-leaf evacuation system is used in conjunction with high volume suction to decrease aerosols in the air during procedures
Front and back doors are open a couple hours each day to let air circulate
HEPA Filters are in each operatory to filter our viruses and bacteria. Filters are left ON overnight
Our staff wipe down and properly disinfecting (with EPA-registered disinfectants) countertops, door handles, chairs, pens, bathrooms, etc. routinely throughout the day,
We are sterilizing all instruments according to OSHA guidelines
We use barrier plastic wrap on x-ray, light handles, chair switches, computer keyboard and mouse, etc. and changing them between each patient.
Operating rooms are steamed with Hydrogen peroxide between patients



Los Cerritos Dental Employees 😊
All employees have their temperatures and pulse taken prior to office entry each day
All employees complete COVID-19 Questionnaire daily and are sent home immediately if they answer yes to any questions
Our employees have been fully educated on COVID-19 and policies related to reducing the risk of spreading this virus.
We have sufficient inventory of PPE supplies (e.g., surgical masks, face shields, disposable surgical gowns, surgical gloves)
Our staff wear respiratory protection masks (e.g., N95 or KN95) and surgical masks at all times
Masks and gloves are changed with each patient. Soiled or damaged ones are replaced immediately.
We are using eye protection with solid side shields or a face shield to protect mucous membranes of the eyes, nose and mouth during procedures likely to generate splashing or spattering of blood or other body fluids.
We are adhering to the standard sequence of PPE wearing and removal, including washing hands after each removal.
Staff wash hands for at least 20 seconds before putting on gloves.
We have implemented a policy requiring employees to groom and dress in a way that helps reduce the risk of spreading the virus, including proper grooming of facial hair, and trimmed nails.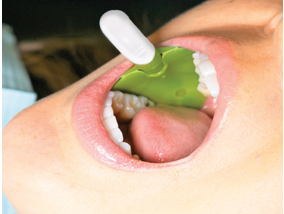 Intra-oral Re-leaf suction is a soft and comfortable dental suction device that reduces the risk of airborne contaminants.